Tony Adigun and Bettina John met for the first time in 2014 when they were working on a dance piece for The Place. Tony Adigun is the Founder and Artistic Director of the cutting edge hip-hop company AvantGarde Dance.
"Area2"
Tony Adigun choreographed the 30 minutes long graduation piece Area2. It is a fast pace, haunting and epic dance piece accompanied with progressive and diverse music. The choreography represents yet again Tony Adigun's  iconic style developed over the years with his Avantgarde Dance company.
With the costumes Bettina John aimed to keep in line with the atmosphere of the music and general style of Tony's work. In the design process however they developed a mature costume image inspired by work wear and the starck lines of modern architecture.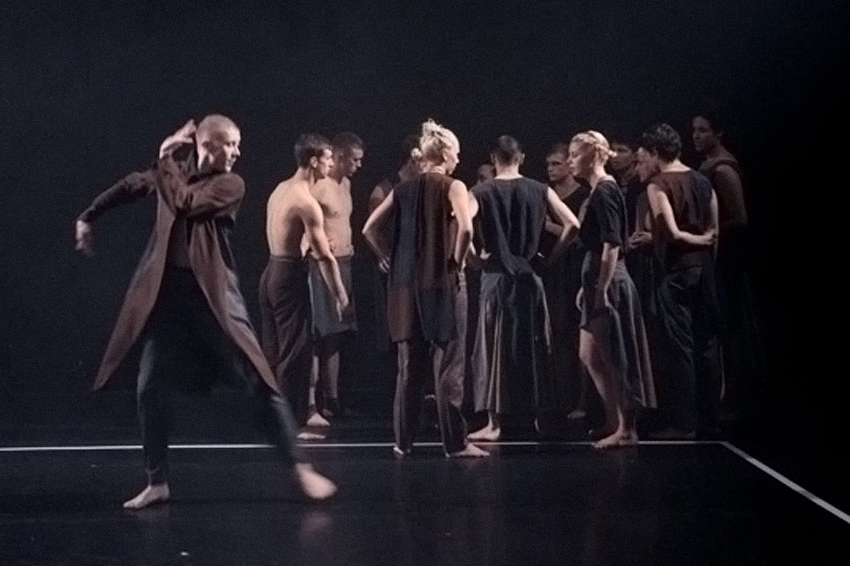 "Wilderness"
The second piece shown further down is an adaptation of the 1977 dance piece Forest by Robert Cohen. Tony Adigun took elements from Cohen's original like the unison of the dancers and the presicion of the movement and translated them into his own unique language. Both scores of the the two pieces have elements of natural sounds like wind and animal sounds whole Tony Adigun added some more electronic beats to it.
Bettina John's costumes reflect the feeling of being outside, in the wild, maybe after a few days of exploring nature. The piece was first shown in March 2015 as part of the 90's birthday celebration of Robert Cohen.